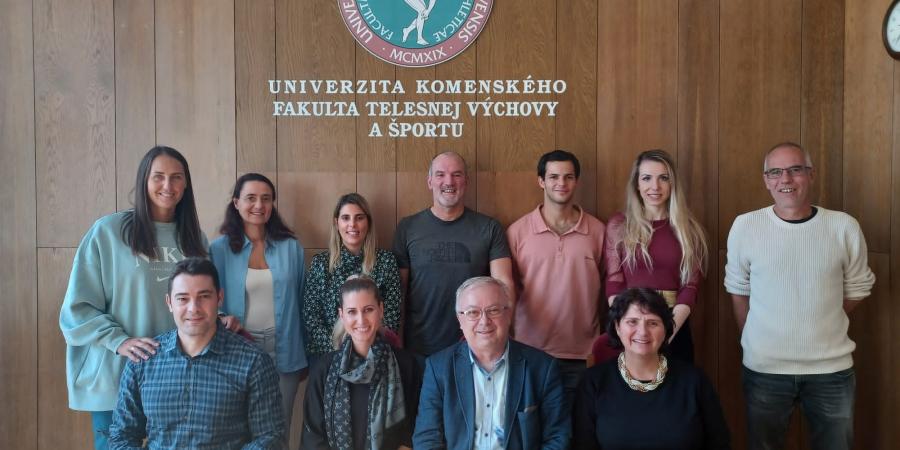 New Health Project Partners meet at Comenius University Faculty of Physical Education in Bratislava, Slovakia
3 October 2022
The New Health 2022 Project group met on 22 and 23 September at Comenius University, Faculty of Physical Education in Bratislava, Slovakia to discuss the on-going development of the New Health Programme. This Project, now in its third and final year, aims to provide sports- and lifestyle organizations, professionals, volunteers and consumers with easy to obtain and to understand knowledge and tools to improve physical activity, healthy eating, mental fitness and a healthy lifestyle. In this way, the intention is to establish and support a European network of Healthy Lifestyle Promoters who will work to ensure healthly living guidelines are known and applied in neighborhoods throughout Europe.
New Health App
Project partners discussed the New Health App which is now available in the Apple and Android Stores. This App allows easy access to the New Health Programme support resources including the lifestyle scan and a set of informative, impactful and evidenced based videos targeted at supporting professionals and consumers to adopt and, encourage others to adopt, healthy lifestyles. These beautifully produced videos are invaluable in providing essential insights into the importance of an active lifestyle, supported by healthy eating habits and a healthy mindset. The New Health App allows access to a Lifestyle Scan. This Scan provides an insightful assessment of an individual's healthy lifestyle habits and could be used over time to show positive changes to those habits. A QR code had also been developed to access all resources.
Project evaluation and dissemination
As the project approaches completion, the evaluation of its outcomes and impacts is being headed up by the Sport Sciences School of Rio Maior (ESDRM) using questionnaires and results data including the results of the lifestyle scan. This evaluation will play a key role in the on-going dissemination of the project.
Dissemination is now being supported by a series of multiplier events in the partner countries with EuropeActive holding its multiplier event on 6 October in Brussels alongside a multiplier event for the Active Ageing Communities project ("Active Ageing Communities" project Final Conference & "New Health" project Seminar | www.europeactive.eu ).
The planned final conference for the New Health Project will take place in Utrecht, during the FitFair tradeshow, on November 25 from 1 PM to 3.50 PM. Registration and the full programme for this event will be released soon. So please join us to celebrate the culmination of this exciting project and in engaging people across Europe in active healthy lifestyles!
Register here as consumer, professional, company or partner and get the lifestylescan and the mini video courses Exercise as medicine, Food as medicine and Brain as medicine for free!
More project information is available on:
https://ec.europa.eu/programmes/erasmus-plus
---

This project is supported by the Erasmus+ program of the European Union
Project Application nr. :
613045-EPP-1-2019-1-NL-SPO-SCP