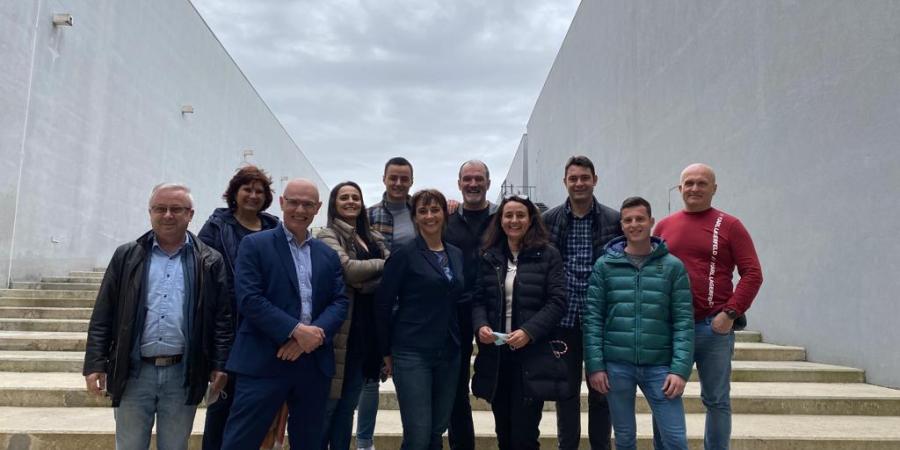 New Health Project Partners meet at Sport Science School of Rio Maior, Portugal
31 March 2022
New Health 2022 Project group met on 24 and 25 March at the Escola Superior de Desporto de Rio Maior (ESDRM), Portugal to discuss the on-going creation, implementation and dissemination of the New Health Programme. This Project, now in its third and final year, aims to provide sports- and lifestyle organizations, professionals, volunteers and consumers with easy to obtain and to understand knowledge and tools to improve physical activity, healthy eating, mental fitness and a healthy lifestyle. In this way, the intention is to establish and support a European network of lifestyle as medicine advisors. These advisers, or Healthy Lifestyle Promoters, will ensure healthly living guidelines are known and applied in neighbourhoods throughout Europe.
Free Healthy Lifestyle documentary
Project partners discussed the further development of a number of key resources and initiatives to support the New Health Programme. These resources included a set of informative, impactful and evidenced based videos freely available to all through the New Health Website. Videos were grouped under the headings, The Turning Point for Homo Sapiens, Exercise as Medicine, Food as Medicine and the Brain as Medicine. The group were informed that the introductory and Exercise as Medicine video series were now complete and online with the remaining videos to follow soon.
These videos would inform both professionals delivering key health messages to others as well as consumers simply looking to improve their personal knowledge of healthy living. By registering on the website both groups could also access a Lifestyle Scan. This tool provides an insightful assessment of an individual's healthy lifestyle habits and could be used over time to show positive changes to those habits.
Project partners would be delivering a complete Healthy Lifestyle Promoter Course to professionals wishing to become qualified under the Level 2 Healthy Lifestyle Promoter educational standard developed by EuropeActive as part of the project. Partners had already delivered the Exercise as Medicine and Food as Medicine aspects of the course to groups of aspiring Healthy Lifestyle Promoters and during the meeting were given insight into the delivery of The Brain as Medicine aspect – fascinating information!! These training courses would be key in developing a network of future Healthy Lifestyle Promoters.
The Project group finally discussed plans for 6 multiplier events in the autumn of 2022 in each of the partner countries as well as a final conference to take place in Amsterdam at the end of the year.
So whether you are a fitness professional, a voluntary worker, an international organisation or just someone interested in improving their own health and well-being stay tuned to the New Health Website for further updates to videos and other support materials to assist you in helping yourself or others to a healthier lifestyle. Materials are comprehensive, innovative and free!! So please come and join the team in working toward a healthier, happier and more active Europe!
---

This project is supported by the Erasmus+ program of the European Union
Project Application nr. :
613045-EPP-1-2019-1-NL-SPO-SCP