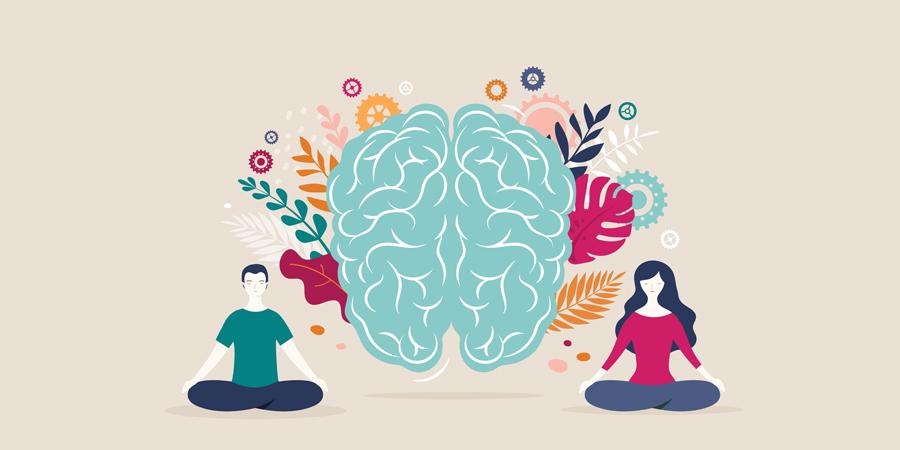 NOW available: Brain as medicine
19 December 2022
In a time of rising levels of psychological stress, ever-increasing chronic ill-health and associated healthcare costs, it is crucial to pay much more attention to primary prevention. Governments are struggling and have not been able to turn the tide of the effects of poor lifestyle habits in the past 60 years. Inactivity, unhealthy diets, stress and a conditioned negative lifestyle mindset are so powerful that it seems that the problems created by poor lifestyle choices are getting worse. Yet there are solutions to all these issues that have been proven by science and practice. The challenge is to create greater awareness of these solutions and to bring the essential insights into healthy lifestyles to the attention of the public and professionals. For this reason, in 2019 the European Union launched the New Health Lifestyle as a Medicine Project.
What do we humans need to know in order to make healthy choices and to escape negative lifestyle conditioning? A team from 6 European countries set out to work on the answers to this question. As a result, the findings from research from two universities have been translated into a mini-video course called 'The Turning Point of Homo Sapiens'. This course and, two further video courses, provide essential knowledge about nutrition and exercise. The videos contained in these courses are perfectly supplemented by the one below which focuses on breaking patterns, finding the necessary mental peace and developing a growth mindset.
10-part short video course: Brain as medicine!
These videos have been developed in the European project 'New Health 2022', made possible by the European Union. The videos are presented with subtitles in 7 languages, which can be set in YouTube by clicking on the wheel at the bottom of the video.
Become a mindset expert!
This third short video course summarizes the essential and most recent science in the field of behavioral change and growth mindset development. Through this video course you will develop real understanding of the field of neuroplasticity, Brainology, placebo and mindset, in relation to a healthy lifestyle but also applicable in all areas of life.
Here is an overview of the chapters and the link to the videos:
1. THE EVOLUTION OF OUR BRAIN - The history of our brain:
https://www.youtube.com/watch?v=my-n6VehvsU
2. WHERE ARE WE STANDING - Stages of behavioral change:
https://www.youtube.com/watch?v=123Yq076VTM
3. WHAT WE KNOW - Our levels of consciousness:
https://www.youtube.com/watch?v=geRz0lsqC0s
4. SELF-CONDITIONING - Food for our subconscious:
https://www.youtube.com/watch?v=KMO4OmGcejs
5. PRIMAL FORCE - The power of our 3 brains:
https://www.youtube.com/watch?v=b_Ne-hPmeJ4
6. WHAT WE NEED - Essential conditions for change:
https://www.youtube.com/watch?v=qMHnqfRo2RU
7. POWER FROM WITHIN - Neuroplasticity, placebo and mindset:
https://www.youtube.com/watch?v=ZmPXhPPbK9s
8. THE STRATEGY - Mind(re)set:
https://www.youtube.com/watch?v=ajO04AMZ7Jc
9. OUR STRONG MIND - Developing more control over our mind:
https://www.youtube.com/watch?v=-LF0Kw-i20g
10. STAY HEALTHY - Lifestyle and mindset:
https://www.youtube.com/watch?v=LikZTzTYQy0
Register to become a healthy lifestyle and mindset practitioner!
You can register completely free of charge as an individual, professional or company. This registration will allow you to not only follow the videos series of Exercise as Medicine, Nutrition as Medicine and your Brain as Medicine, but also to do the unique Lifestyle Scan; https://new-health.eu/en/register.
If you want to become an international partner as a freelancer or organization and to share this program among your supporters, register here and email us a piece of text about your organization and a logo: https://new-health.eu/en/register. You will then be added to this international partner page for free:
https://new-health.eu/en/new-health-partner-network-eu/international-partners
---

This project is supported by the Erasmus+ program of the European Union
Project Application nr. :
613045-EPP-1-2019-1-NL-SPO-SCP